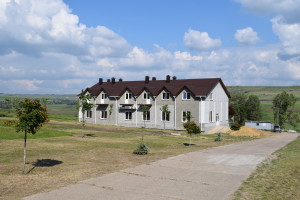 We have already had a significant impact on the Moldovan community.
To date, Moldova Mission has raised $500,000 which has been applied to the construction of four Bible huts, Chapel, Welcome center/Infirmary, one hope house and partial construction of the dining hall. With your support, we can continue to follow through with our mission to provide hope, guidance, and, most importantly an introduction to Jesus, as well as empowerment among the youth of Moldova.
Volunteer
• Church Groups
• College Students
• Youth Leaders
Donate
$15: The cost for a Moldovan child to register for camp
$25: Bibles for 5 kids
$50: Monthly salary for one Moldovan camp worker
$100: Moldova Mission expenses for one week of camp for one camper
Sponsor
Long-term (annual) gifts
Camper sponsorship opportunities range from one-time support of a single camper to annual support for 100 campers.
| Qty. | Funding Partners | Amount | Total | Frequency | Sponsors |
| --- | --- | --- | --- | --- | --- |
| 14 | Angels | $10,000 | $140,000 | Annually | 100 campers for 12 weeks |
| 27 | Champions | $5,000 | $135,000 | Annually | 100 campers for 12 weeks |
| 25 | Devotees | $150 | $3,750 | Monthly | 1 camper per month |
| 50 | Supporters | $150 | $7,500 | One Time | 1 camper per month |
Naming rights to buildings
There are numerous opportunities and levels of giving to help support the Moldova Mission. Naming rights are available for the dining hall, cabins, Hope Houses, welcome center, chapel, infirmary, each of the ball courts and field, pool, Bible huts and parking lot for the following donation levels.
Qty.
Entity
Donation to Name
1
Dining Hall
$100,000 remaining
2
Hope/Family Houses--one complete and the 2nd under construction
$15,000 each
4
Cabins with 2nd floor
$150,000 each
1
Welcome Center
Complete!
1
Chapel Area
Complete!
1
Swimming Pool
$18,000
1
Infirmary
Complete!
1
Basketball Court
$12,000
1
Soccer Field
$10,000
1
Volleyball Court
$8,000
1
Parking Lot
$8,000
6
Bible Huts-four complete
$2,000 each
A Volunteer's Testimonial
Leaving Moldova after a mere ten days was painful: emotionally, spiritually, and physically. One morning, I was sitting at the kitchen table, attempting to vocalize the thoughts that flooded my thirteen year-old mind. Why did God place me here? How am I blessed with a bed, plenty of clothes and food, family, education, while girls the same age as me all the way across the world barely have a pair of shoes?
I wanted to invest in the city of Cahul, love on Emmanuel Baptist Church, and serve wholeheartedly another culture, for Jesus alone.
The experience I was blessed with for those short five weeks overseas is impossible to fully express into words, but what I can say is I beheld a greater revelation of God's glory, His love, and perfect, holy character manifested in the delicate hands of an autistic three year old wrapped around my thumb, the toothless grins of worn, wise grandparents huddled by the fire, and the beautiful prayers in Romanian streaming from the hearts of the youth, kneeling in the back room of the church.
God is working, ever-present, and evident throughout all creation, but there's just something about going somewhere in which you are stripped from all of the distractions that clutter our life. We build. We work. We wonder, and we stand amazed in the presence of our great God.
-- Valerie Medlin